18Shake's Unique Formula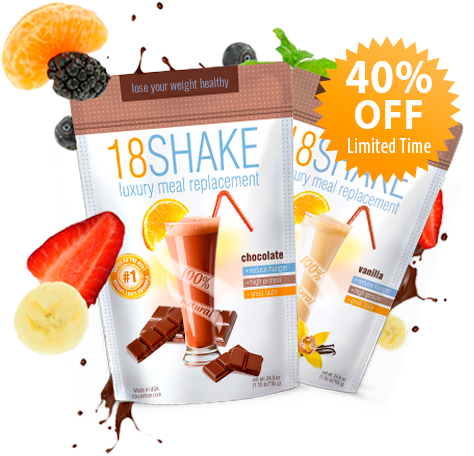 Expires: 02/26/2018
18Shake is a luxury meal replacement made in the USA from all-natural ingredients. It has no soy, artificial sweeteners or any other harmful ingredients found in many meal replacement products. Also, 18Shake is a gluten free product. Its high quality dual-protein formula and fiber will naturally help to reduce hunger and lose weight fast.*
We are so confident in our product that we will give you your money back if you do not see great results!

*Results are individual and may vary. We cannot guarantee the same experience for every consumer.
Offer Expires: 02/26/2018

18shake - Superfood of Future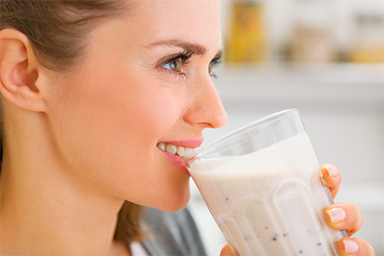 Why is
18

SHAKE so Effective?

18shake is an innovative meal replacement shake made in the USA to deliver results in weight loss and for long-term health benefits. It's the best and most convenient alternative for regular meals. Meal replacement diets have become popular because of their simplicity and lack of restrictions. There is no systematic calorie counting, weighing of food or constant checking of different tables and charts.

Many health experts highly recommend meal replacement diets for all those who want to see real results.
How Does it Work?
The secret behind this product? It's simple, a yummy meal replacement shake with everything you need to lose weight.
What makes a meal replacement shake so powerful is you don't have to spend countless hours carefully selecting and prepping your meals. A delicious and healthy drink that contains fruits and protein only takes 2-3 minutes to prepare.
18Shake makes you feel full and has only 90 calories per serving which is approximately 5-7 times fewer than a conventional dinner. A reduction of calorie intake is the main principle of every diet and it really works! You have the convenience of an easy to prep and even easier to enjoy mix of ingredients.
Simply replace one or two of your daily meals with 18Shake. It has a large amount of nutrients needed by the body. This meal replacement work wonders by giving you all the nutrients and vitamins that a big meal would have, without any of the excessive calories, fats, carbohydrates, or sugars.
All you do is quickly blend these delicious powders and let the healthy protein and fiber keep you satisfied. You can enjoy it on the go and since it has just enough calories to give you the energy needed for a productive day, you'll be full of energy and completely satisfied.
We recommend mixing 18Shake with milk for the best taste, also, you can find many recipes with different ingredients on the recipes page.
It is also a convenient and easy meal on the go!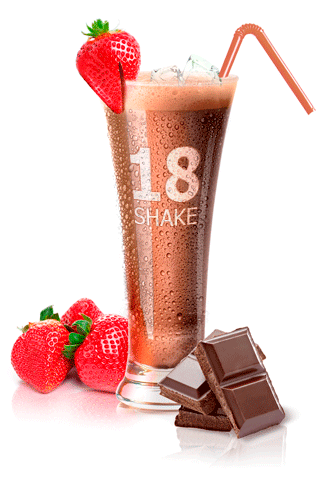 Try it Now